Travel Trade Social Media Marketing
Reach 1000's of Travel Professionals
via Social Media
Ginger Juice is the UK's leading provider of travel trade social media marketing campaigns.  We deliver millions of advert impressions directly into the social media newsfeed of thousands of travel agents in the UK & Ireland.
We have delivered many travel industry social media campaigns for leading trade-facing brands such as Visit California, Gold Medal, G Adventures, Titan Travel, South African Tourism, Fred Olsen, Saga & more.
We also deliver B2B social media campaigns via our ever-popular travel trade Facebook group – Travel Gossip which has over 21,000 trade members.
The combination of powerful social media adverts and Travel Gossip promotion is unbeatable and ensures your campaign cuts through to thousands of travel agents.
Contact us today to discuss how our travel trade social media campaigns could help your travel brand.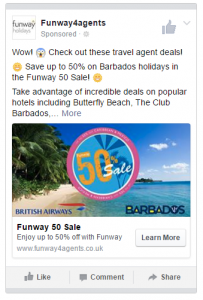 Travel Trade Marketing
We will deliver high-impact social media advertising campaigns on Facebook, Instagram and Twitter which will reach up to 20,000 travel professionals – guaranteed!
Powerful Targeting
We will deliver your campaign to travel agents using advanced targeting techniques including accessing our powerful trade social media audiences which we have built up over many years.
Guaranteed Results
We can guarantee to reach many thousands of agents with your campaign message, several times each to ensure your campaign gets cut-through to the trade community.
Travel Gossip Group
In addition to social media advertising, we can reach agents via our huge trade Facebook Group Travel Gossip which has over 21,000 members – all UK/Irish travel professionals.
eMarketing
We can also promote your campaign via a feature in our regular Friday email to over 4,000 subscribers.
Competition Apps
We can create a professionally designed online competition app to collect competition entries with full GDPR-compliant data collection. 
We have delivered trade-facing social media campaign for many clients including the following:
Bronze
Social Media Package
2-week advertising campaign

Facebook and Instagram ads targeting agents

10,000 agents reached – guaranteed!

20,000 advert impressions

 2 days of Travel Gossip featured promotion

One advert version included
Silver
Travel Trade Social Media Package
4-week advertising campaign

Facebook and Instagram ads targeting agents

Twitter ads campaign targeting agents

15,000 agents reached – guaranteed!

50,000 advert impressions on Facebook & Instagram

10,000 advert impressions on Twitter

4 days of Travel Gossip featured promotion

Top banner in 1 x Travel Gossip eshot to c3000 subscribers

Campaign can include two adverts types with two different campaign messages

Campaign can include the creation of an online competition/sweepstake with data collection
Gold
B2B Social Media Package
4-8 week advertising campaign

Facebook and Instagram ads targeting agents

Twitter ads campaign targeting agents

20,000 agents reached – guaranteed!

100,000 advert impressions on Facebook & Instagram

20,000 advert impressions on Twitter

7 days of Travel Gossip featured

promotion

Top banner in 2 x Travel Gossip eshot to c3000 subscribers

Campaign can include two adverts types with four different campaign messages

Campaign can include the creation of an online competition/sweepstake with data collection

Campaign can include a live webinar broadcast to travel agents in Travel Gossip
Contact us to find out more about our Travel Trade Social Media Campaigns